Growing up i was not very adventitious with my vegetables like most kids and teens. So As i am getting older i am trying to be more healthy and but in a delicious way. When eating healthy you don't have to sacrifice taste or deliciousness.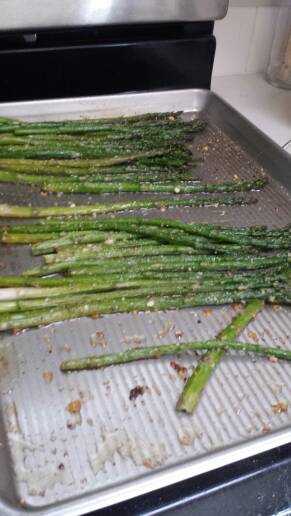 OVEN ROASTED ASPARAGUS
INGREDIENTS
1 lb. Fresh Asparagus
3 TBS. Olive
2 Cloves of Garlic
⅓ Cup of Parmesan Cheese
Salt & Pepper to taste
INSTRUCTIONS
Preheat oven to 425°.
cut the bottoms of your asparagus off they tend to be too fibrous
Spread out on a large baking sheet. Drizzle with olive oil. Crush garlic on top and sprinkle with parmesan cheese. Season with salt and pepper.
Make sure to spread all over asparagus and coat thoroughly.
Bake at 425° for 15-20 minutes.
This recipe is so delicious I was burning my fingers eating them off the pan right after it came out of the oven. SO delicious!
(Visited 55 times, 1 visits today)