Vanilla Bean Cheesecake
This is the first baked cheesecake that I feel like i have perfected. It started because we got a tropical pack (or herb pack) with a Bountiful Basket (a program where you can order fresh local produce that is seasonal), and we got 10 vanilla beans. At first I had No idea what to do with it because I had never used Vanilla beans before. I was also inspired by my Brother-in-law who had recently gone gluten free and was having a hard time finding desserts that he liked that were gluten free. So this cheesecake was born. I will give you a step by step process on how to make you cheesecake. please make it and Share it and let me know how yours turns out.
Ingredients
1 1/2 C Walnut pieces
1 3/4 C Sugar
4 Tbsp Butter, Melted
2 C Sour Cream
1 Tbsp Pure Vanilla Extract
2 lbs Cream Cheese (Softened)
1 Vanilla Bean, Split lengthwise and seeds scrapped out
4 Large eggs (room temp)
1/2 tsp Almond extract
1/2 c Heavy Cream
Instructions
Take cream cheese and eggs out to get to room temperature. If they are not room temp you are likely to have lumpy cheesecake.  Preheat the oven to 350. Spray or Butter a 10″ spring form pan.
In a blender or food processor. pulse walnuts and 1/4 C of sugar until finely ground. Add melted butter on pulse until it looks like moist sand. press crumbs into the bottom of the pan and bake for 12 min or until lightly browned at the edges.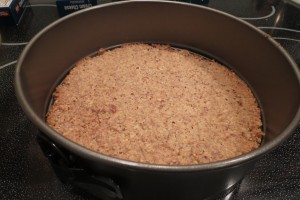 In a small mixing bowl combine sour cream and 1/4 C of sugar and 1 tsp vanilla. cover and put in fridge.
Reduce oven temperature to 300.
Prepare a water bath for your pan- Line the outside of your spring form pan with foil and place it onto a lipped cookie sheet. Add 2-3 c of water onto the cookie sheet (not the spring form pan). The water bath will create steam on the oven. This will help prevent the cheesecake from cracking on top. This means you shouldn't open the oven too much while baking other wise you will loose all of the steam while baking. Also you may need to add more water during the baking process. (this is a picture of my water bath after i put my batter in my pan)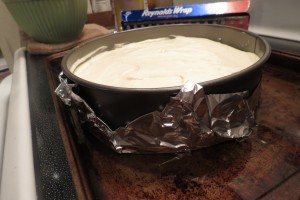 In a stand mixer with a paddle or using a hand mixer-beat cream cheese on a low speed and add the remaining 1 1/4 C sugar and vanilla seeds until just combined. Beat in eggs one at a time. Add remaining 2 tsp vanilla (3 tsp=1 TBSP) and almond extract.
Pour batter onto crust and bake for 1hr and 20 min. check it after an hour to see how it is doing. the top should be golden and only slightly jiggly in the center.
Immediately pour sour cream topping on cheese cake and smooth it over the surface with a spatula. Return cheesecake to the oven  for another 5 min.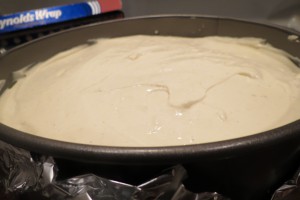 let cool and remove from spring form pan and place it in the fridge for 3 hours (covered if possible). this will tighten up your cheesecake. And it tastes better after sitting a little while.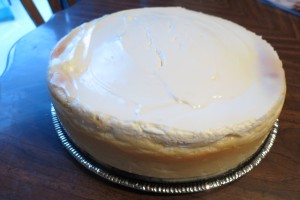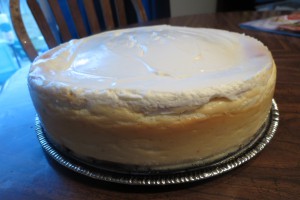 If you are having a hard time finding Vanilla beans I was able to find them at Walmart by all the spices and herbs. I can't remember what they currently cost but it generally is more expensive than other locations. We have a store called WinCo near us where you can buy spices in bulk and they sell vanilla beans at a good price.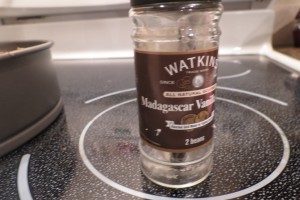 (Visited 245 times, 1 visits today)