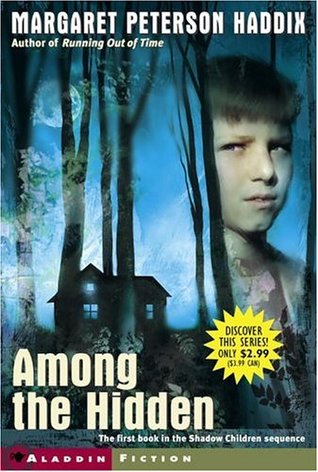 Author- Margaret Peterson Haddix
Description- This is the first book in  the Shadow Children series. It is a science fiction-dystopia type of book.
Review- Luke is a Shadow child. There was a law against him. Families were only allowed to have 2 children and he was the third. So he had to be hidden, he had never been to school. He's never had a birthday party, or gone to a friend's house for an overnight. In fact, Luke has never had a friend.
Luke is one of the shadow children, a third child forbidden by the Population Police. He's lived his entire life in hiding, and now, with a new housing development replacing the woods next to his family's farm, he is no longer even allowed to go outside.
Then, one day Luke sees a girl's face in the window of a house where he knows two other children already live. Finally, he's met a shadow child like himself. Jen is willing to risk everything to come out of the shadows — does Luke dare to become involved in her dangerous plan? Can he afford "not" to?
My take on it-  I liked this book it was a little out of my typical favorite genre, but it had some really interesting thoughts. I found it ended too soon which was of course on purpose, to get the reader to read the next book. There are some really strong political views and some of them seem like they could be possible in our society in the future.
Awards- Rebecca Caudill Young Reader's Book Award Nominee (2002),Sunshine State Young Readers Award for Grades 6-8 (2001)
Recommended Grade Level-
Reviewed by- Kristen Gedeborg, Avid reader and stay at home mom, 3/17/16
(Visited 57 times, 1 visits today)